VIP MEET & GREET SEPT 25, 2021 STEREO GARDEN
$

75.00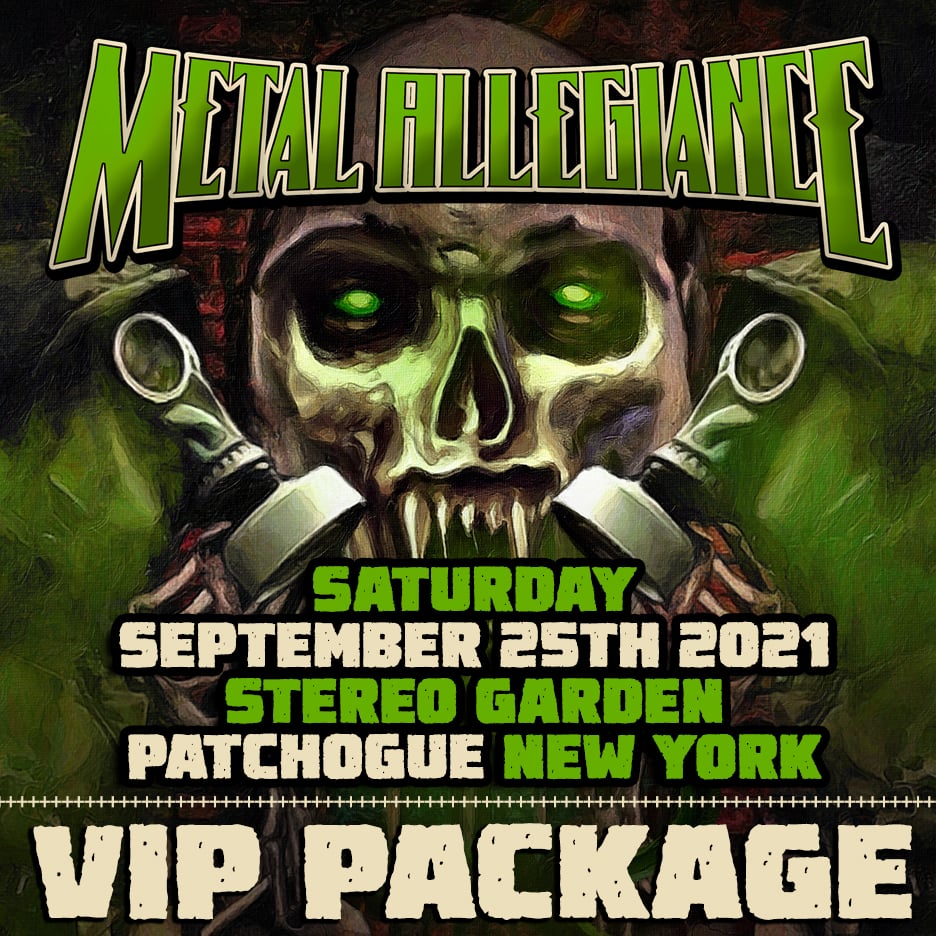 VIP MEET & GREET PACKAGE
PLEASE READ IN FULL!
Includes:
• Early access into the venue
• Exclusive pre-show kinda socially distanced Meet & Greet with members of Metal Allegiance
• Personal photograph & autograph signing with members of Metal Allegiance
• Collectible show poster (which they'll happily sign for you)
• Metal Allegiance T-Shirt (sizing from Small to 3XL)
• Official Meet & Greet VIP laminate
• Crowd-fee access to the merch booth
SOUNDCHECK VIP MEET & GREET PACKAGE
You get everything listed above PLUS an exclusive "Soundcheck" viewing with Metal Allegiance crew and/or Tour Manager from the front of the stage and/or on the stage! Wanna experience all the behind-the-scenes shenanigans that happens the day of an MA show? Especially our first show back since COVID hit AND on our home turf? Wanna witness a Metal Allegiance soundcheck from side-stage while hanging with our Tour Management staff (and members of MA)? Wanna see what it takes to get this three-ring circus of a show together? Well for the second time ever, we're offering an exclusive "Soundcheck" VIP Package where you can come into the venue mid-day (Time TBD), hang with our Tour Manager, get a tour of the backstage happenings, hang out during Metal Allegiance Soundcheck (which is basically a glorified rehearsal) PLUS get an exclusive Meet & Greet with members of MA at our VIP Meet & Greet (which we'll put you in front of the Meet & Greet line). Duration of the Soundcheck viewing package is at the sole discretion of MA's Tour Manager. But we hear he is pretty nice and can be bribed with tacos and beer. You'll get at least 3 songs...
*** PLEASE NOTE THAT A TICKET TO THE METAL ALLEGIANCE CONCERT AT STEREO GARDEN FOR SEPT 25 2021 IS REQUIRED TO ATTEND THE PRE-SHOW MEET & GREET AND/OR PRE-SHOW SOUNDCHECK. YOU MUST PURCHASE A TICKET (SEPARATELY) TO THE SHOW TO GAIN ACCESS TO THE VIP MEET & GREET AND/OR PRE-SHOW SOUNDCHECK. PLEASE VISIT OUR WEBSITE OR THE VENUES WEBSITE TO PURCHASE A TICKET TO THE CONCERT. THESE ARE VIP UPGRADE PACKAGES ONLY AND TICKETS TO THE CONCERT THAT NIGHT ARE NOT INCLUDED ***
*** METAL ALLEGIANCE AND ITS BAND MEMBERS/CREW WILL BE FOLLOWING AND ADHERING TO THE MOST-UP-TO-DATE COVID PROTOCOLS. METAL ALLEGIANCE, ITS BAND MEMBERS AND CREW RESERVE THE RIGHT TO NOT SHAKE HANDS, HUG, KISS, WRESTLE, FIST BUMP OR BE CLOSE TO YOU. PLEASE RESPECT THEIR WISHES. THEY ARE NOT BEING RUDE, JUST BEING CAUTIOUS SINCE WE ARE NEARING THE END OF A WORLDWIDE PANDEMIC AND HEALTH CRISIS***
*All package elements will be rendered invalid if resold. Name changes will only be issued at the sole discretion of Metal Allegiance. Package customers will receive an email within (2-3) days prior to show date with VIP details. Information will be sent to the email address provided at the time of purchase. The package and package contents are non-transferable; no refunds or exchanges; all sales are final. Please note that the information provided at the time of purchase (email and mailing address) is the same information that will be utilized for individual contact requirements. Metal Allegiance, the artists, tour, promoter, ticketing company, venue or any other affiliated parties are not responsible for outdated or inaccurate information provided by the consumer at the time of purchase. VIP merchandise items will be distributed at the show upon check-in. The laminate included in the package does not gain or authorize access into the venue (without an admission ticket), VIP or any backstage areas.
Availability
VIP MEET & GREET ONLY (YOU MUST PURCHASE TICKET SEPARATELY)

SOUNDCHECK VIP MEET & GREET (YOU MUST PURCHASE TICKET SEPARATELY)
Share